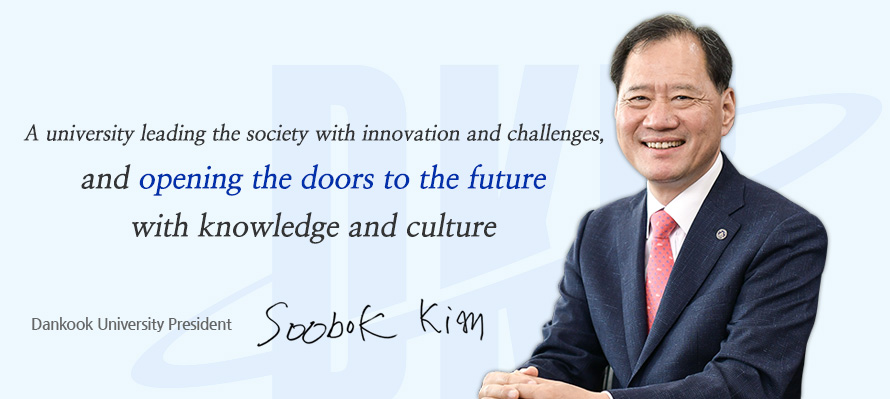 Dankook University was founded in 1947 as the first 4-year private university in Korea following liberation based on our founder's noble idea that rebuilding the nation and shaping intellectuals is what education is about. Established with domestic funds, Dankook University has been practicing its educational mission based on the founding spirits of 'National Salvation, Self-Reliance, and Independence' and the guiding principles of 'Truth and Services' to nurture true talent and pursue academic studies.
Along with the turbulence in Korea's modern history, Dankook has also undergone endless trials and tribulations but succeeded in achieving advancement thanks to the affection and dedication expressed by Dankookites. Upgraded to university status in 1967, major events in the university's history also mark key milestones in Korea's history of higher education. For example, the Cheonan Campus opened in 1978, the College of Dentistry's Dental Hospital opened in 1984, the Dankook University Hospital opened in 1994, the university was relocated from Seoul to the current Jukjeon Campus in 2007, and the education support system EduAI was implemented in 2018.
Today, Dankook's Jukjeon and Cheonan campuses operate together as a single university, practicing the Dankook spirit while driving the career paths and growth of students and the local community based on campus specialization strategies that take into account local conditions and the surrounding environment.
The Jukjeon campus specializing in IT and CT has become a mecca of industry-academia partnerships and entrepreneurship, taking part in major government-sponsored projects including the IP Education Leading University program, K-Startup, the Leaders in INdustry-university Cooperation (LINC+) program, and SW-oriented university program. The Cheonan campus specializes in BT and foreign languages, concentrating research and studies on medicine, dentistry, pharmaceutics and healthcare to create a 'medi-bio all-in-one campus.' Such achievements have brought us one step closer to becoming a world-class university that boasts global competitiveness.
Our aim is to foster 'D3 talent' who can demonstrate self-determination, discovery, and dedication to continuously strive for self-development and endlessly work to create a new Dankook. Our youth who are fearless in marching into the world and into the future are the driving force and pride of our university.
We will build on the founding spirits and legacy of our Dankook founders, pursuing innovation and taking on challenges to become a university to lead our society and times. We will create knowledge and culture to serve as a university that opens the doors to a brighter future. Please look forward to Dankook University as we spread our wings as a leading Korean university in the global arena.
Thank you.