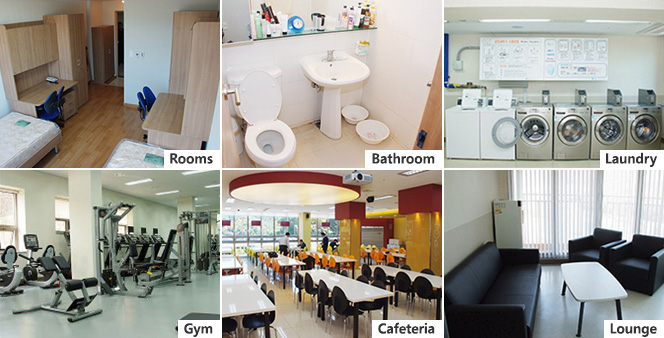 Each room is furnished with 2 single beds, bedding, desks, chairs, wardrobes, internet connection, and a private bathroom. A variety of facilities are also available for students' convenience such as a coin operated laundry room, restaurant, fitness center, convenience store, etc.
Bedding is not provided and students need to bring their own from home or purchase bedding at the dormitory or at a nearby shop upon arrival.
The dormitory has strict rules and students should abide by the rules during their stay. Detailed information about the dorm rules will be provided upon arrival. Briefly, the most notable rules are:

There is a curfew of midnight on weekdays. All students should be in the dormitory towers and be quiet by this time. Students need to get a permission from the dorm office in advance for staying out overnight during weekdays. There is no curfew on weekends.
Floors and towers are designated for different genders. Students cannot enter the floors designated for the opposite gender.
Unauthorized entry or use of unlicensed electric appliances such as coffee port, electric blanket and iron is not permitted unless approved by the dormitory office.
Smoking is not allowed inside the dorm. There are designated outdoor smoking areas.

Students can find some video clips on Youtube about the Dankook University dorm.
Residence Handbook (Korean / English / Chinese)