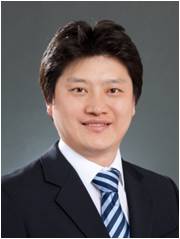 Hyongjun Choi | Department of Physical Education
Telephone :

031-8005-3859

Email :
Grade:

Associate Professor
Introduction
Dr. Hyongjun choi has finished a degree in Myongji University in 2003. And he continued his research interests on performance analysis in sports at Cardiff Metropolitan University (Previously called UWIC) in United Kingdom (From 2003 to 2008). His Ph.D. thesis was "Definitions of performance indicators within real-time and lapsed-time analysis systems in performance analysis of sport".
He has experiences and knowledge of Performance Analysis in Sports that he was Performance Analyst with Cardiff City Football Club (UK), CMU Archers Senior Women basketball team (UK) and Incheon United F.C. (Korea) before he became a faculty in Dankook University. He is recently accredited as Level 5 Performance Analyst by International Society of Performance Analysis in Sports that it is a first case in Asia.
He is teaching a measurement and evaluation on exercise skills, swimming, Life saving in water and Performance Analysis of Sports modules in Dankook University.
His research interests are now;
1) Development and consideration on an application of artificial intelligence to Sports,
2) Development & application of oppositional index for match analysis.
Teaching Philosophy
Honestly Think, and Carefully Observe! This is my educational philosophy. In modern society, it is easily thought that the relationship between students and lecturer would be simply official or formal only. However, it is not helpful that I would think each student would be same as my son or daughter, then
Educational Background
[2003] bachelor's degree Myongji University
[2005] master's degree Univ. of Wales at Cardiff MSc. Performance Analysis Performance Analysis of Sport
[2008] doctor's degree Univ. of Wales at Cardiff Ph.D. Performance Analysis Performance Analysis of Sport
Career
University of Wales Institute, Cardiff (2005-01-01)
Cardiff City Football Club (2004-09-01)
UWIC Archers (2005-03-01)
Myongji University (2009-07-01)
Ihwa Women Univeristy (2011-03-02)
Inha University (2011-09-01)
Korea National Sport University (2010-03-02)
Kookmin University (2010-08-30)
University of Seoul (2009-08-31)
Myongji College (2011-03-01)
Research
Converging of Sport & Computer Sciences
Converging of Sport science & Information Technology
Measurement & Evaluation on exercise skills and abilities
Measurement & Evaluation on exercise skills and performances
Performance Analysis of Sports
Consulting
1. Measurement & Evaluation in P.E. and Exercise Sciences: Talent Identification, Body/ Fitness/ Skills/ Abilities Measurement & Evaluation, Physical Activities
2. Research Methods & Statistics: Writing skills for thesis, research methodology on P.E., Data process and analysis with statistical tests
3. Performance Analysis of Sports: Development of match analysis systems, Identification of Key Performance Indicators for match analysis, Development of Database and its application toward practical environment in sports