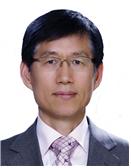 Kim Dongnyong | Department of Civil and Environmental Engineering
Telephone :

031-8005-3170

Email :
Grade:

Professor Emeritus
Introduction
Research field is transportation engineering especialy on traffic operation and safety.
Also interested in highway design and surveying engineering.
Visited to University of Maryland in 1992 and University of Illinois in 2001
as a visiting scholar for one year each.
Research
Traffic Safety Analysis
Consulting
Highway Geometric Design, Signal Operation, Transportation Planning and Impact Analysis,
Traffic Safety.